Welcome to the Female Role Model interview with Isabella Stadler, founder of BELLE IKAT, a label for handmade and sustainably produced fashion. And off we go…
1. i always find it exciting to meet other people who also have a colorful biography. You were born in Armenia and grew up in Israel. To what extent have the impressions of these exciting, diverse cultures influenced you in your personal and professional life?
Armenia and Israel are indeed two countries with fascinating and deep-rooted histories that have influenced people all over the world. Growing up in different cultures can offer a broader perspective on the world and bring many advantages in both private and professional life. Cultural sensitivity, language skills, adaptability, tolerance and openness. People who grow up in different cultures are often more tolerant and open to diversity and different ways of life. This can lead to a positive attitude towards new ideas and people from different backgrounds.
2. you studied economics with a focus on tourism. How did you go from being a traveling globetrotter to a creative fashion designer?
When I worked as a model in Israel, I was undoubtedly offered a unique opportunity to immerse myself in the world of fashion at an early age. I found it exciting how fashion offers the opportunity to express personality, set trends and bring people together.
Fashion is more than just clothing; it is art, culture and a reflection of society.
This complexity has always attracted me. But it wasn't until I was 39 that I fulfilled my dream.
3. is there a tip or piece of advice you would like to give to aspiring fashion designers that you would perhaps have liked to have received yourself?
Live and love what you do.
4. the term "female empowerment" literally jumps out at you when you read and see "Belle Ikat". To what extent does the topic play a decisive role for you, your label and your fashion?
It's great to see women succeeding in the fashion industry and being able to develop their unique talents and visions. The fashion industry is diverse and offers space for a wide range of voices and perspectives. The emergence of talent in the fashion industry is often the result of hard work, passion and creative development. We, BELLE IKAT, would like to support this.
5 I have rarely seen such a significant cultural diversity at a fashion label. To what extent is this also reflected in the craft traditions and techniques you use for production?
100 %. The authenticity and commitment that come from our craft can also strengthen our brand and leave a positive impression on customers.
6. varied fabrics, embroidered blouses, colorful pants made of shiny material – the patterns of your label are very extravagant and eye-catching. How do you convince minimalists and friends of the "capsule wardrobe" that an unusual piece of Uzbek, Ukrainian or Armenian fashion tradition should definitely find a home in their wardrobes?
Our philosophy is to offer the right thing for every taste and every occasion without having to convince anyone. Our customers are as diverse as our products, and we pride ourselves on providing them with high-quality options that reflect their individual preferences.
7. sustainability and fair production conditions are particularly important to you with your label. An absolute exception when you look at the fast fashion industry, with which you are in competition. How do you specifically counter the negative trend of disposable fashion?
We firmly believe that education is the key to overcoming fast fashion. To get closer to this goal, we are actively involved in educating young people and consumers about the impact of the fashion industry on the environment and society. An example of this is my recent presentation to my daughter's 12th grade class, where I introduced our label and our production practices. We took the opportunity to explain how we set ourselves apart from fast fashion and instead focus on sustainability, quality and ethical production. We encouraged the students to think about their purchasing decisions and to recognize the value of high-quality, durable products.
8 Body image is also subject to many unrealistic distortions in the fashion industry. What is your attitude towards the perception of different body shapes in the fashion world? Do we need more role models here?
Role models? Hmmm… I would say women/men who are visible in the media with different body types, skin colors, ages and backgrounds can help promote more realistic and healthier beauty standards. This can boost the self-confidence and self-esteem of many people and give them the feeling that they are represented in society and in the fashion industry.
9. so that we can increase our readers' anticipation a little more: What can we look forward to at Belle Ikat in the coming years?
There are many exciting things to look forward to next year. One of our main priorities will be to explore even more countries and broaden our creative horizons. This means that we will gather new cultural influences and inspirations that will be incorporated into our upcoming collections. In addition to our creative plans, we are also looking forward to accompanying our existing and new customers on their journey through the world of fashion. There is so much to discover and we are ready to share the journey with you. In short, there are many reasons to look forward to next year, from new collections to exciting discoveries in different countries. We can't wait to embark on this journey and share our enthusiasm for fashion with everyone.
Dear Isabella, thank you very much for these exciting insights and the joint interview.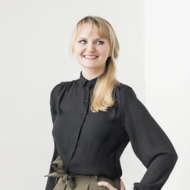 Kinga Bartczak advises, coaches and writes on female empowerment, new work culture, organizational development, systemic coaching and personal branding. She is also the managing director of UnternehmerRebellen GmbH and publisher of the FemalExperts magazine .