BRAVE WoMan CREATE LEADERS – THE FEMALE EMPOWERMENT SEMINAR
BRAVE WoMan CREATE LEADERS is the seminar for all women who have a desire for personal development, women who want to break out of the daily grind, for independent women, adventurers, (aspiring) entrepreneurs and women who have a desire for MORE.
Do you feel that there is more to you than what you are currently living? Do you have wishes and dreams that you would like to realize but don't dare? Or are you self-employed and currently still afraid of visibility?
No matter where you stand as a woman: The Female Empowerment Seminar will help you to regain energy, to see new perspectives and to have more confidence in yourself.
It will take place on June 25, 2023 in the beautiful and bright foyer of the Bensheim Park Theater and is a 5 hour seminar including a welcome drink, finger food and a social gathering with the speakers at the end of the event.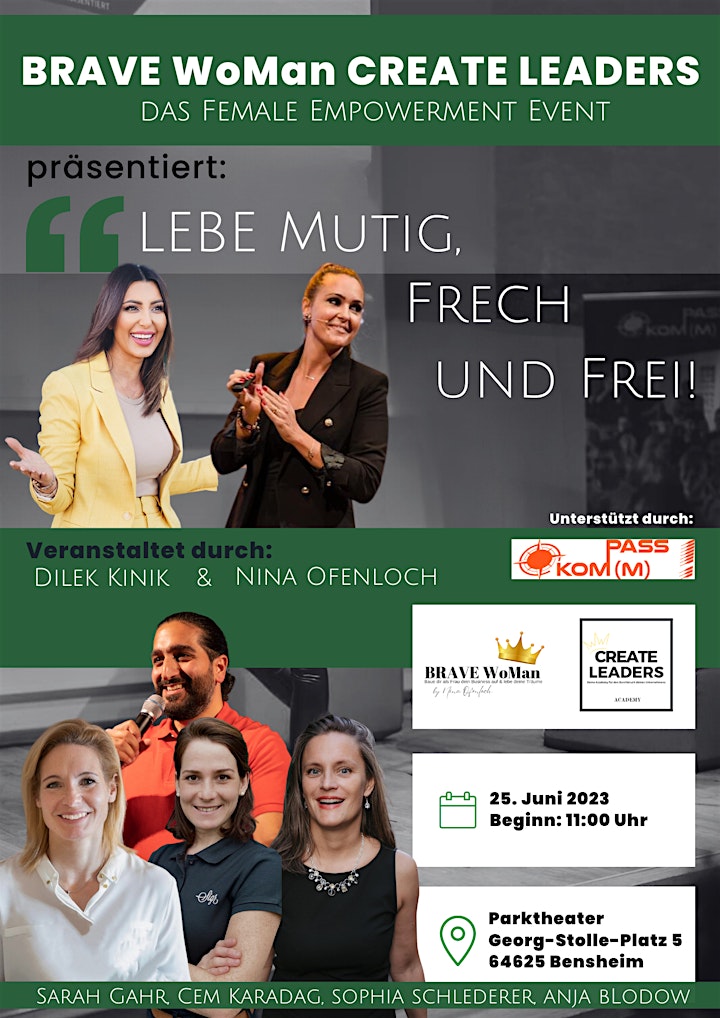 The year is 2023 and yet there are still far too many women who sell themselves short. Women with dreams and desires who let the opinions of others hold them back. Women who put their self-doubt above their happiness in life.
THIS HAS AN END TODAY!!!
It's time to unleash our girl power and turn our dreams into reality!
Our upcoming event gives you the opportunity to learn from successful women entrepreneurs and get the nuggets from the talks. Draw inspiration from a real estate millionaire, an adventurer who has traveled the world by bicycle, a best-selling author and expatriate, a successful executive, and an entrepreneur who has turned over 15,000 euros a month in two years. Learn how to maximize your strengths and act more confidently.
With inspiring talks, networking opportunities and one-on-one conversations with the speakers, you'll be encouraged and empowered to develop your skills and shine as a power woman.
There will be snacks and soft drinks. Furthermore, we are looking forward to a social gathering after the event, where you can ask the speakers all your questions personally.
Let's come together to create a world where women can achieve their goals and realize their dreams. Come to the Women Power Event and experience how you can break your own limits and take your future into your own hands!